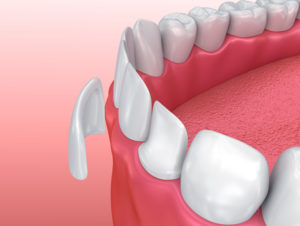 Are your teeth discolored? Are they crooked or chipped? Perhaps you have a gap between your teeth, they are decayed, or past bridgework has left your smile looking unnatural. For any of these problems, veneers may be the solution that restores your pearly whites.
What Are Veneers?
An attractive solution to many oral problems, veneers are thin layers of porcelain that are applied over your natural teeth. These porcelain structures are custom-fit, so they are secure in your mouth. Because they are made to match your other teeth, they will look natural and blend right in.
How Are Veneers Applied?
To apply porcelain veneers to your teeth, Dr. Eric Abrams at Princeton Park Dental will remove just a very small amount from the top layer of your natural teeth. Then, the porcelain covers are applied to your teeth with a special adhesive. If necessary, the dentist will give you an anesthetic, but because Princeton Park Dental uses advanced veneer technology, many patients find the process comfortable without any numbing.
How Long Does the Process Take?
Getting veneers takes just two appointments with a cosmetic dentist. At the first appointment, the dentist will take impressions of your mouth so that the veneers can be custom crafted for you. At the second appointment, your new veneers will be placed in your mouth.
How Long Will They Last?
Veneers are strong and resistant to stains. With proper care, they can last for 10 years or more. Just like with natural teeth, daily brushing and flossing will help keep your veneers in top shape.
To find out whether porcelain veneers will give you the smile that you're looking for, make an appointment at Princeton Park Dental to discuss your options with Dr. Eric Abrams.