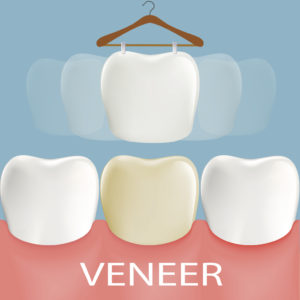 Dental veneers are somewhat like artificial fingernails. They are thin shells designed to fit over the exterior surfaces of your teeth. Veneers are cosmetic dentistry devices and are used to create a more aesthetically pleasing smile and to correct minor tooth defects.
Who Should Consider Veneers
Veneers are used to correct cosmetic defects in your front teeth, such as stains from medications or discolorations after a root canal treatment. You might consider veneers if there is a gap between your front teeth or if you have a gummy smile. A chipped, uneven or irregularly shaped tooth can also benefit from a veneer.
Procedure for Getting Veneers
Getting veneers takes two or three visits to the dentist office. At your first visit, a thin layer of enamel is removed from your teeth. The dentist then makes impressions of your teeth, and the impressions are sent to a dental lab. A technician in the lab will make the veneers from wafer-thin porcelain. The porcelain will be colored to make your teeth look brighter. The veneers can also be colored and shaped to match your other teeth if you are correcting a chip or a crack. During your second visit, the veneers will be bonded to your teeth. Veneers are permanent because of the removal of the enamel, but they may need to be replaced if they become damaged.
How to Care for Veneers
You can brush and floss around your dental veneers as you do around your other teeth. Your dentist may recommend not eating hard foods and not biting on things that could chip the veneers. You may also need to avoid foods and drinks that stain or that discolor veneers. These include beets, red wine, tea and coffee. Taking care of your new veneers is very important.
If you are seeking dental veneers, call Dr. Eric Abrams at Princeton Park Dental Associates.