Optimal dental health is about more than just caps, bridges, and fillings. Thanks to advancing dental technology, Dr. Abrams and Levittown Family Dental Associates can not only offer you and your family premium dental care, but they can also offer you a number of other services that not only enhance oral health, but can also improve your overall quality of life.
Did you know your teeth contain stem cells? Deep Within inside our teeth is something referred to as "dental pulp." This substance is made of living soft tissue and stem cells, which can potentially be used in the future for various sorts of regenerative medicine. Working with the National Dental Pulp Laboratory, Dr. Abrams and Princeton Park Dental Associates can offer you a way to preserve this potentially precious resource for future uses.
Toothprints® Child Identification
Dental imprints are like fingerprints: unique to each individual. A pediatric dentist invented Toothprints® to help find and identify children in the event they get lost or abducted. Dr. Abrams offers Toothprints® at no cost.
Gladiator Sports Mouth Guards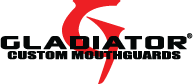 We recommend Gladiator® Mouthguards to protect the teeth of our patients who are athletes playing contact sports like football, lacrosse and hockey. Gladiator® is the choice for many professional athletes and is handmade on a model of your teeth, resulting in the most comfortable fit and best protection we've found. The mouthguard can even be personalized with your choice of color, player's name, number, and team logo if desired.
Gladiator® guarantees a perfect fit when first received and will fix or replace the mouthguard at no extra cost if it's not completely comfortable.
Dr. Abrams will answer all your questions if you're looking for a custom mouthguard to protect your teeth. Just ask!
CPAP-Free Snoring and Sleep Apnea Treatment
Dr. Abrams is an award-winning expert on treating snoring and obstructive sleep apnea (also known as OSA), both of which can cause severe health problems. He provides an alternative to uncomfortable CPAP machines, by offering a variety of custom-made oral appliance options to help you stop snoring, breathe easier and sleep better.
Learn more…
We know your time is valuable. We have all of our new patient forms online and will work with you to get an appointment that fits your schedule.
Oral Cancer Screening: VELscope®

Oral cancer, affecting the mouth and throat, accounts for 2 to 4 percent of all cancers diagnosed in the United States each year. Although the prevalence of this disease is low, its death rate is alarming. Each year, 30,000 people will be diagnosed with oral cancer and only half of those will be alive five years later. The death rate is so high for oral cancer because of late discovery, making early identification of critical importance.
Velscope® is an early screening test for oral cancer. Velscope allows the dentist to visualize, evaluate, and monitor suspicious areas at their earliest stages. These tests are simple and can be completed in about 3 minutes. At Princeton Park Dental Associates, we are proud to provide you with this important service routinely during your dental hygiene exam.